Black Queer History Week of Learning & Action
February 22, 2022

-

February 25, 2022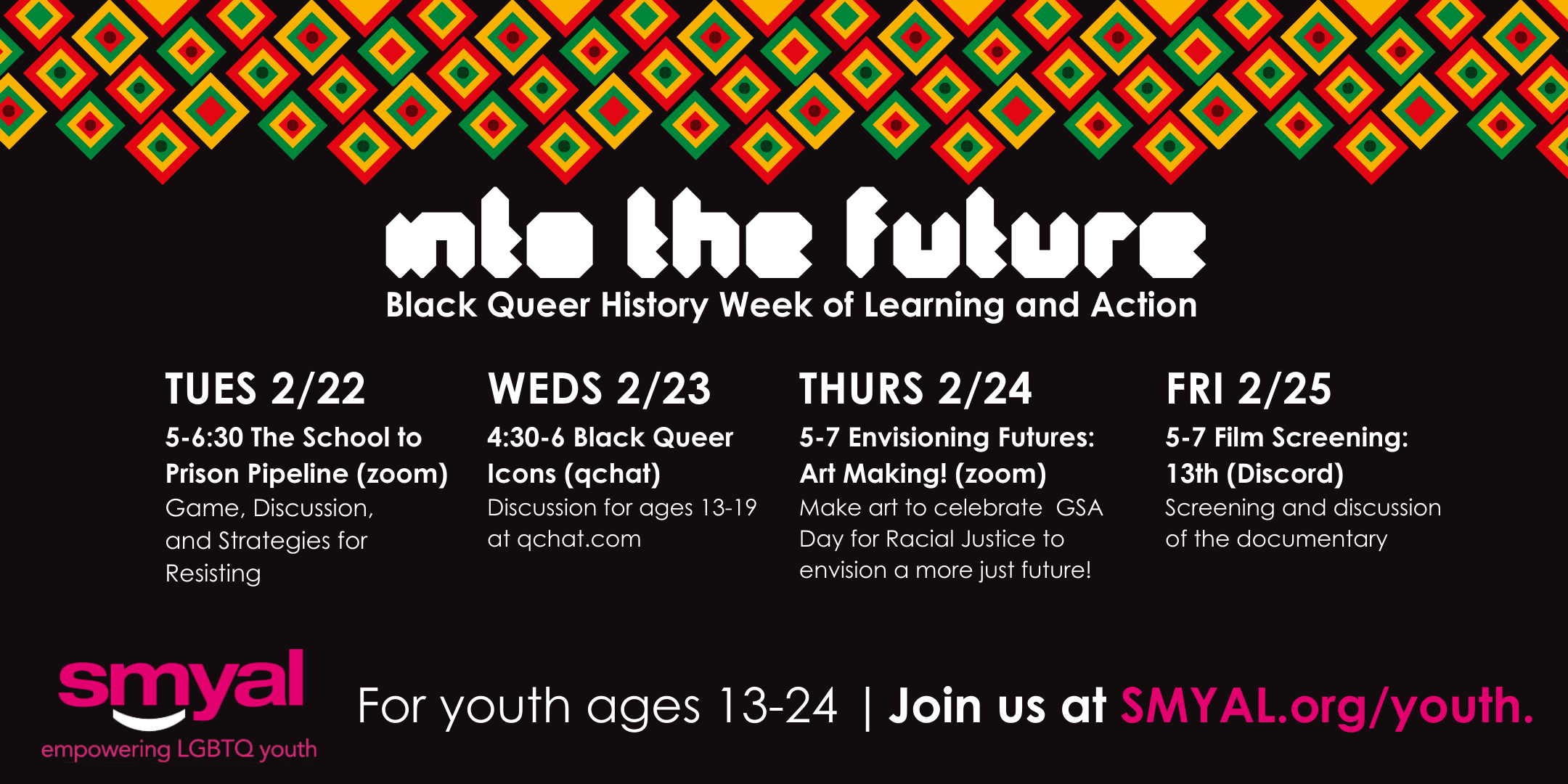 Join us for a week of learning and action all about black queer history then and now! Invite a friend and come learn together! The zoom or chat links for each program can be found at smyal.org/youth.
Anyone who attends 2+ events will receive a copy of a zine made by Black artists!
Tuesday: School to Prison Pipeline
5:00-6:30 pm EST- This is a discussion about how BIPOC, queer, and disabled students are systematically pushed out of schools– and what we can do about it! We'll play an interactive game (The Game of K12 Life) that helps us see how this works. We'll then have a discussion about how you can start a campaign in your school, and how you can lead this activity with your GSA, club, or class. This event takes place on zoom.
Wednesday: Black Queer Icons 
4:30-6 pm EST- Join us for a discussion about black queer icons in history and today! This discussion will take place on qchat– a chat platform for queer youth ages 13-19.
Thursday Envisioning Futures: Art Making Night
5:00-7:00 pm EST- February 24th is GSA Day for Racial Justice– a day to encourage conversations about the intersection of queer justice and racial justice! This year's theme is imagining futures beyond oppression. Join us to make art on this topic. All youth ages 13-24 are welcome, whether or not you are part of a GSA. This event takes place on Zoom.
Friday: Film Screening of 13th
5:00-7:00 pm EST –"13th" is a thought-provoking documentary about how the 13th Amendment, which formally abolished slavery, led to mass incarceration in the United States. Learn about how history impacts us today. We'll watch the film and have a discussion about it on Discord.