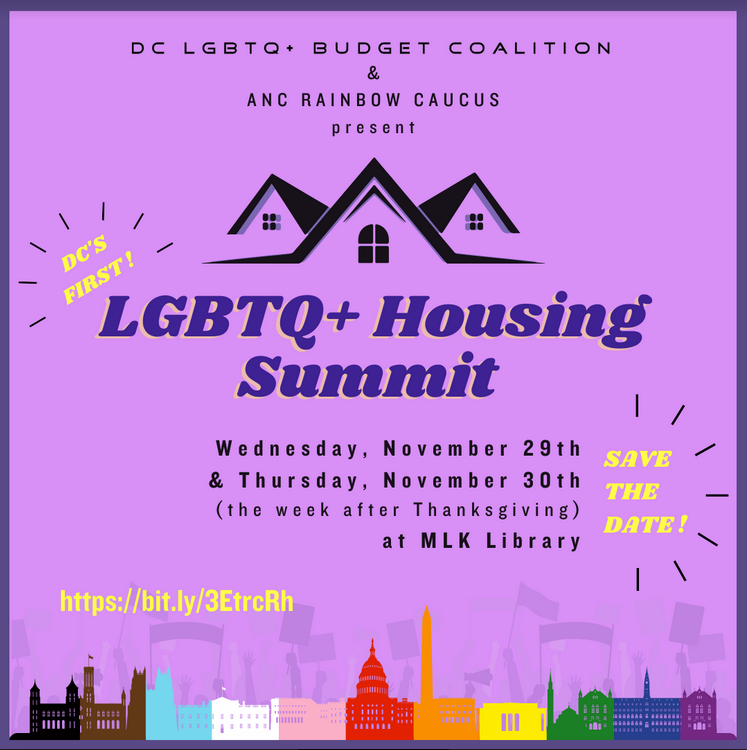 THE CRITICAL SHORTAGE OF SAFE AND AFFORDABLE HOUSING IS THE ONE SINGLE THREAD RUNNING THROUGH EVERY SECTOR OF DC'S LGBTQ+ COMMUNITY.
DC has the largest percentage of LGBTQ+ households in the US, and is home to the LGBTQ+ community's most vulnerable members: transgender persons, returning citizens, unsupported youth, older adults, and those facing intersections of marginalization, including homelessness.
BIG PROBLEMS REQUIRE BIG SOLUTIONS. Confront the LGBTQ+ Housing Crisis in DC's First LGBTQ+ Housing Summit.
Let's rebuild the ties lost during the pandemic. Let's come together to discuss the politics and policies of the District's problematic housing, and protect housing as a human right. United, we can learn, plan, and implement solutions for a better future.
Join us the week after Thanksgiving, on Wednesday, November 29th and Thursday, November 30th at MLK Library.