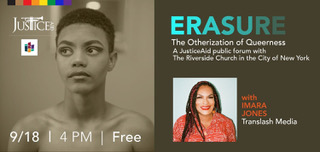 These are perilous times for people who identify as LGBTQ. Twenty-three states have signed anti-LGBTQ bills into law so far in 2022. For people who identify as queer and trans, and especially for children and youth, discrimination is setting in motion an arc of intolerance that can cause depression, anxiety, and isolation from their families, schoolmates, and society at large. LGBTQ youth are 4x more likely to experience homelessness and attempt suicide than their non-LGBTQ peers, and are targeted and punished in the criminal legal system because of their identity and sexual orientation.
How can we push back against this hate?
Join us to learn the issues confronting the LGBTQ community. Emmy and Peabody award-winning journalist/media creator and LGBTQ activist, Imara Jones, will set the stage for a panel discussion, Freedom to Be Queer. The Resistance Revival Chorus and jazz pianist Matthew Whitaker will perform and help us celebrate openness, acceptance, and tolerance. The forum is free and open to the public. Please RSVP.
Thank you to our key programmatic partner and forum host, JusticeAid!