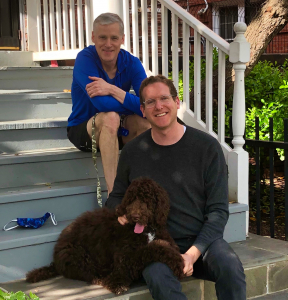 This November, it is our honor to highlight board member and major donor, Daniel Penchina.
Daniel is a dedicated member of SMYAL's Board of Directors where he serves as Board Vice-Chair and Chair of the Development Committee. This year, Daniel launched his own consulting firm, Penchina Partners, after serving as President of Voices for Progress.
What brought you to SMYAL?
I've known Sultan from our work on DC marriage equality in 2010, and I was thrilled when he asked me to join the board. He's an exceptional leader and manager.
What about the organization inspired you to become a major donor and get involved on the Board of Directors?
In Washington, so much attention is given to national causes and policy, and many of my clients are national nonprofits. It is critical to me that we support the people in our own community as well and help the DMV's LGBTQ youth manage the challenges they're facing.
As Vice-Chair of the Board of Directors and Development Committee Chair, why is the Major Donor Club important to SMYAL?
Our ability to house, mentor, and support the DMV's LGBTQ+ youth is directly related to how many resources we can bring in to help them. SMYAL's work is only possible with the contributions of folks who care about their community.
How are you staying connected to community and causes during COVID-19? Have you picked up any new hobbies?
I am taking a lot of long walks and exploring parts of the city I've never seen before. I've always loved to cook, but I've also experimented like never before – Thai, Persian, Middle Eastern, Indian – which has yielded some amazing dinners (and more than one flop). But generally, I've been trying to keep in touch with friends and family, practice mindfulness and gratitude, and keep my anxiety about the elections at bay!
We know that you and your husband Don recently adopted a dog. Can you tell us about Winston and any favorite moments with him?
He's a very sweet ball of fur with a very playful and mischievous side. He's extremely bright – he taught himself to play fetch – and sometimes we think he sees us as his pets instead of the other way around. Few things bring me as much joy as watching him have an attack of the "zoomies" and run in circles around the house.
Join Daniel in ensuring SMYAL has the resources to continue serving LGBTQ youth in our community by joining, renewing, or upgrading your major donor membership.